Tripawds is a user-supported community. Thank you for your support!
Chance has been trucking right along with his newfound "Tripawdness" and he's still keeping up with his four legged sister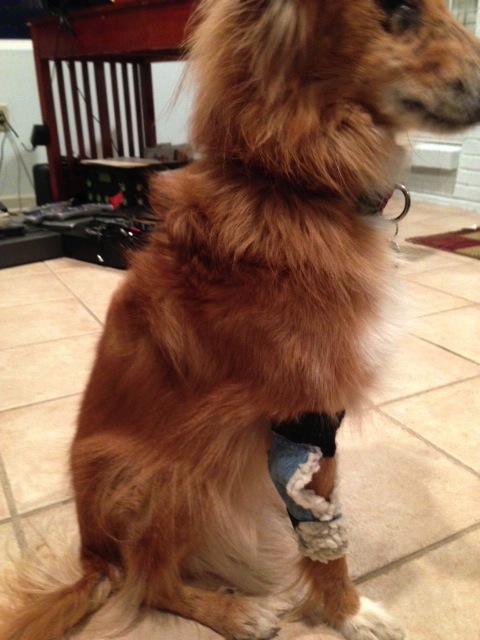 Maddie. This boy doesn't let anything slow him down! We had a minor issue, not cancer related, with his front right leg. He has suffered from moderate seasonal allergies and this change of weather has really gotten him scratching. He's been licking and biting so bad that he now has ANOTHER bald spot on his right elbow. My vet wanted to start him on a low dose of Prednisone so after getting the OK from my oncologist, we started him every other day. It seems to be kicking in so I hope he's a little more comfortable. Also, one of our awesome Tripawd members, Anne Richardson, was kind enough to hand make an elbow saver for him. He's sporting it like a champ!
We also had his 3rd round of carboplatin on Friday along with the dreaded chest X-ray. Everything was clear! Praise the Lord! They are also monitoring his other front leg which I had forgotten about. When he was diagnosed, they did a comparison of both legs and said that his other leg "does not look normal." No tumors or cancer, just not normal. Could be the way he was born, but better safe to watch it. Chance is doing great and I'm thankful for all of the support and wonderful care that he is getting. Oh and how could I forget, Happy 2 Month Ampuversary to Chance!