Tripawds is a user-supported community. Thank you for your support!
1 year ago today, I drove to Montgomery to run some errands for my upcoming wedding and ended up bringing home this scraggly, mangey looking mutt called Rick. He was so happy when I took him that he jumped right into my car. I didn't have a crate for him, because I hadn't really planned on bringing a dog home, but he politely rode in the back seat.
I was still living with my parents at the time and when I got home my Mom said "THAT is not staying in MY house!" I admit, he looked pretty pitiful. We didn't know if or what diseases he had. He sneezed all over the floor and scratched all over and had watery eyes. Something was wrong with him. My vet determined that it was just severe allergies and we started him on some meds to clear them up. Fortunately, he DID NOT have mange! He ended up staying with my husband because he has a fenced in back yard. We immediately fell in love with him and Sai told me "You're NOT taking him back!" He was so smart and didn't need much training. Just a little reinforcement. (See video below)
After a little anxiety at first over him meeting Maddie, he finally passed the test and we determined that he could stay. You see, he was so passive at the shelter that he let the other dogs bully him. He put up a defense that any new dog he meets he will get in their face and bark or snap to let them know he can fight back. When he did this to Maddie at first, I thought we were in trouble. But my housekeeper, Janet (who posted the picture of Facebook) worked with them for about 30 minutes and they were instantly best friends.  Once he realized that she wasn't his enemy they can't get enough of each other! We had our rough start (I lost him 3 times). But he came back every time. Now he knows this is home and he isn't going anywhere! I can't believe that this little guy has stolen our hearts and brought so much joy to our lives. My husband calls him a Momma's boy, and that he is. We don't really know his age but we settled at 8 years old, so I guess now he is 9. It's been 4 months since his diagnoses and amputation and I pray every day that he will beat the odds. I told my husband when we got him that my guess was we would have about 5 years with him. I sure would like to be right!
He is approaching his 4 month ampuversary and has finished 5 rounds of chemotherapy. Nothing has slowed him down. He has done great with everything and even gets HAPPY to go the vets! He is such a strong and remarkable boy. He has been there for me and helped me through hard times. When I'm sad he just rests his head in my lap and let's me know he loves me. He is the perfect example of unconditional love. When he does something wrong and I tell him "Bad Boy!" He just ducks his head and slowly walks away as if he is ashamed. He hates to disappoint me, but as soon as I go over and pet his head he's happy again.
He is always waiting on me at the back door when I come home and the second he sees me he starts barking and running in circles. It feels good to come home to that much excitement. I never thought when I brought this sweet boy home that he would weave his way into my whole family's heart. He has become "one of us." Our family would not be complete without our Chancey boy. Each time that I begin to worry or get upset about my day I just look at Chance and  I am reminded that each day is a blessing when you are with the ones you love.  Don't take a second for granted, he doesn't. Don't feel sorry for yourself, he doesn't. Chance is the one that was dealt the bad cards, but he's forgotten about  that. Whenever I tell someone that "I rescued a shelter dog" I should be saying…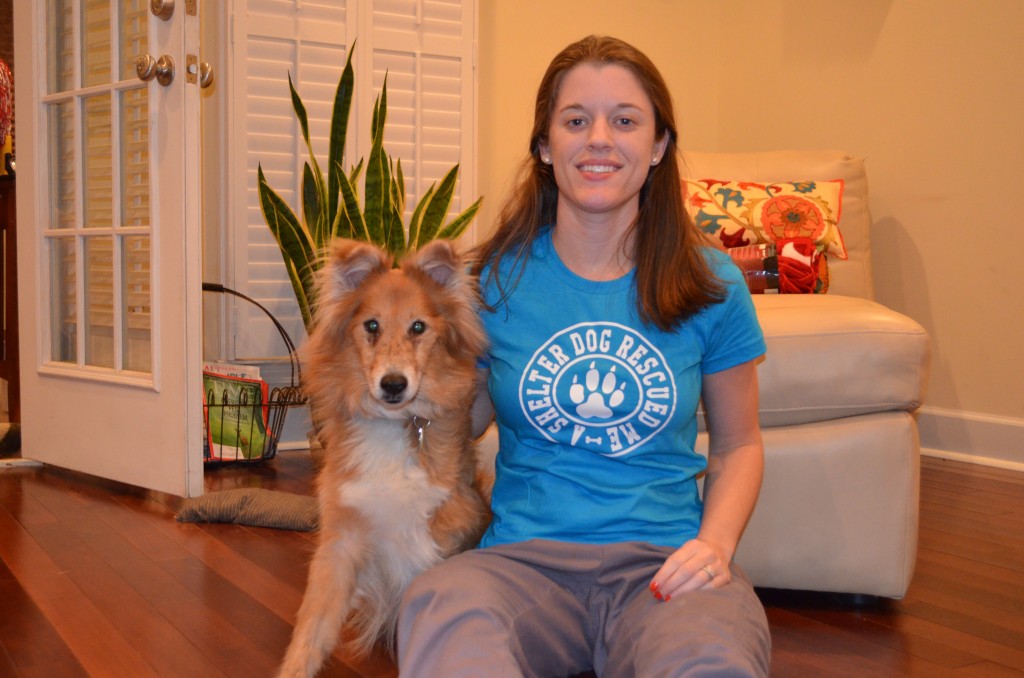 ..
This was days after I brought him home. They taught him a few commands at the shelter. I admit, I made him wait too long on the stay.