Tripawds is a user-supported community. Thank you for your support!
Well, it's been a while since I have updated on Chance. Like the title says, "No news is Good News!"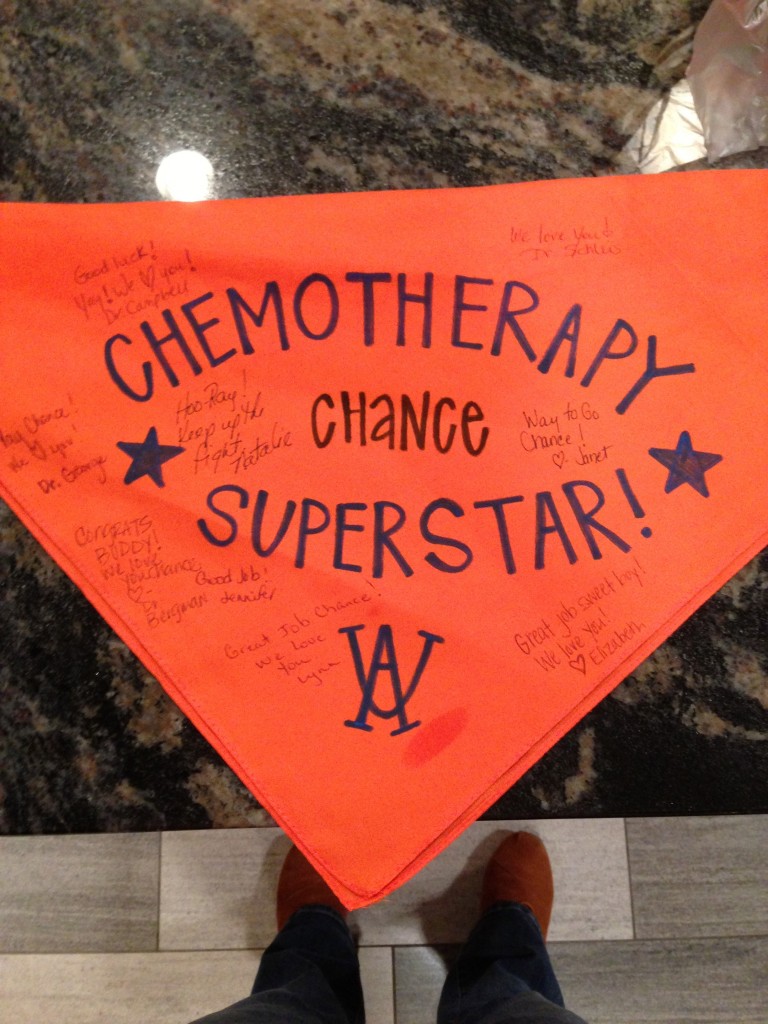 I really haven't had anything good or bad to write so…  We have been on the Cytoxan and Peroxicam for 3 weeks now and he is doing great so far. No stomach upset, that I have noticed. We went back to Auburn this past Wednesday for a regular check up and they have just finished a BRAND NEW small animal facility. This place does not look like an animal hospital! I can't help but feel that I contributed to at least 1 of 30 exam rooms with as much money that I have spent with them! All of the students and doctors love to see him. I was surprised that just walking down the hall, 3 students stopped to say hey to Chance. He must really make an impression on them that they remembered his name! They even made him this awesome bandana and signed it!
So, enough of that, let's talk about Chance. He is still the same ole boy but his skin has been the bigger problem lately. I thought that the whole thing was just allergies and he just needed an antihistamine every day. Those haven't been working for a while so while we were in Auburn we decided to get the Dermatology service to take a look at him because he is licking his paws raw. I finally got a diagnoses that completely makes sense. He has Familial Canine Dermatomyocitis. It's a genetic skin disease most common in shelties and causes alopecia around the eyes, nose, ear tips and tip of tale. BINGO!!! I think we have a winner. Unfortunately, his is flaring up which means they added 3 more pills to his already growing list. He has 6 pills in the morning and 4 in the evening. I had to go buy a pill box just to keep up with all of it! I also have to bathe him twice a week with chlorohexadine shampoo. As much as I love Chance, I'm getting a little overwhelmed with all the meds that I am giving to him. When is enough enough? He is still so happy so I will do whatever it takes to keep him comfortable but when do the meds get to be too much that they are MAKING him uncomfortable?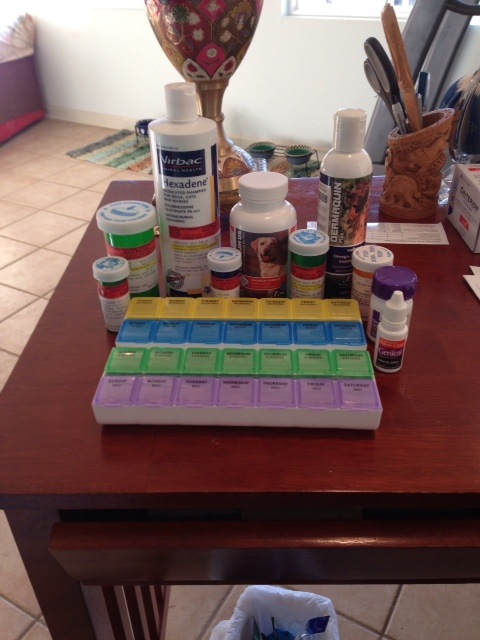 All in all, we are good! I really am happy at how well he is doing. As long as he is still happy, I will make all the meds work. Happy 6 month Ampuversary Chance!!!!